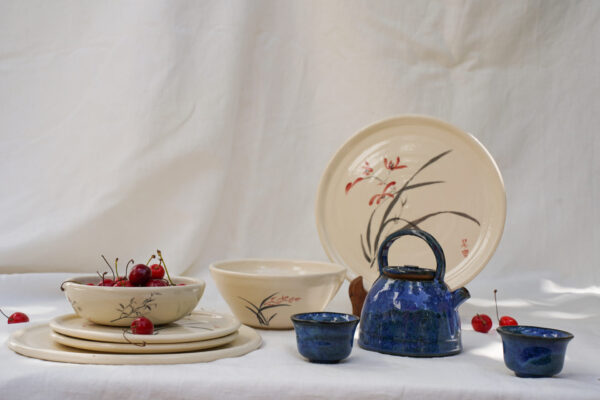 About the Program :
This is a 4.5 month, full time program launched with a vision and passion to impart a strong foundation in pottery skills along with letting one explore the creative possibilities in clay. If you are a beginner in ceramics and are looking forward to taking up pottery as a serious hobby or a profession, then this course is for you!
The program is designed with a perfect balance of instructor-led and practice sessions. The program will have short individual or
group projects in between for students to build a creative connect between the various skills acquired in each course.
Framework :

Understanding and Exploring Clay : Clay basics, Glaze fundamentals, Firing
Handbuilding : Pinching, Coiling, Slab Work, Scale Up
Wheel Throwing : Cylinder, Bottle, Cups, Mugs, Round form, Bowls, Plates
Understanding Elements of Design
Complex Composite Forms : Handbuilding, Wheel Throwing
Exploring Textures and Surface Decoration : Slip Trailing, Slip Transfer, Sgraffito, Inlay, Stamps
Glaze Application : Dip Glazing, Pouring
Who can apply :
The course is open to anyone
Who wants to explore ceramics as a profession
Who wants to take it as a serious hobby
Who might have or don't have any prior experience in ceramics.
Who is just curious to understand and explore this medium
Detailed Brochure : https://drive.google.com/file/d/1HWyeyCfAnUoOLHQbVDcN1K9buO-ZR21q/view?usp=sharing
For any query before making the payment, you can call us on 9535000629. 
LOCATION:  
10, Temple tress row, S.T Bed, Cauvery Colony, Koramangala, Bengaluru
January 17 - May 31 I 10:00 AM-5:00 PM
Weekdays
Number of sessions: 4,5 Months
Instructor:
Prerequisite: None
Venue: Claystation Studio Koramangala
Age: 16 and above
Fee: 151040 Rs.