Pre-requisite: Prior knowledge and experience in throwing 1.5 kgs. of  clay, creating handles, spout and lids (optional) is required to participate in this workshop. For further clarity get in touch with the studio team on 9535000629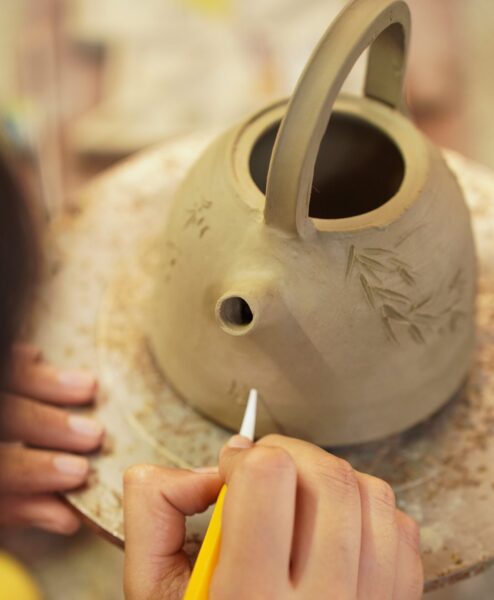 This Advanced level workshop is designed for individuals who are ready to take their ceramic skills to the next level. Over the course of this workshop, you will learn
to craft and explore different styles of working tea pots
to craft well fitting lid systems
to make and attach spout with a system of liquid flow for a good pour
to attach various types of handles to achieve the best functionality
glazing techniques for different elements of the tea pot
This is a 5 session program, spread over 3 days (3 hours per session)
10:30 am - 5:50 pm: July 19 and July 20
2:30 pm - 5:30 pm: July 21
During these sessions with the instructor, students will be learning and making two different forms of tea pots. After the session with the instructor, students are expected to explore more forms on their own (at their home set-up or they can take up separate open studio sessions). The forms made during the workshop and at home will be glazed and fired at the studio. Post the firings, a zoom session will be organized where the instructor will review and guide the participants on the functionality and aesthetics of the explored tea pots.
As part of the course takeaway, 4-5 tea pots will be glazed and fired at the studio.
Course kit includes: 20 kgs of cone 6 stoneware clay and a large palette of glazes to chose from.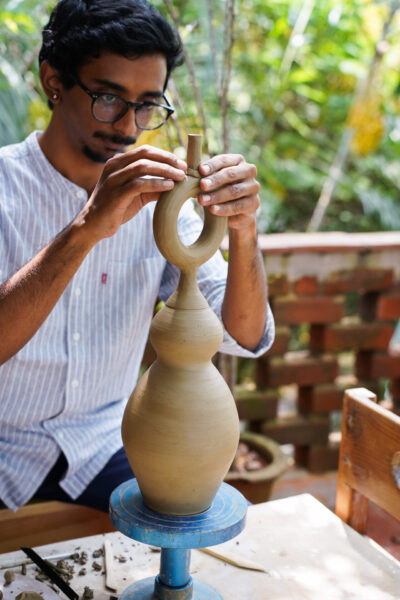 ABOUT OUR INSTRUCTOR
Born and raised in Bangalore, Shivu holds a BVA in sculpture from the College of Fine Arts, Bengaluru and MFA in Ceramics and Glass from Kala Bhavana, Santiniketan. He recalls playing with mud in his grandmother's garden, making miniature crockery and figures as one of his fondest memories which planted a seed for his affinity towards clay .In the city, sculpting Ganesha idols during Ganesha Chaturthi by borrowing a lump of red clay from a local artisan was a highly anticipated event cherished every year. Throwing donuts on the wheel and forming rather challenging and complex structures that is gravitationally well balanced for both sculptural and functional purpose has always kept him on his feet.
Ever since the pandemic he started experimenting with 3D modelling and printing. He plans to continue stepping into new media like such that will eventually aid his adventurous journey with art. He believes understanding the properties of a media and it's behaviour is key and encourages people to do so.
NOTE:
Registration and payment is required to secure a spot in class.

Cancellation and refund Policy:

1. No refunds will be provided if the registration is not cancelled 1 week before the start of the program

2. A refund of 75% will be provided if cancellation does occur before 1 week of commencement of the

    program

3. Claystation will not offer refund for the sessions missed

4. Claystation  reserves the right to cancel or change the schedule of classes. The participant will receive full refund in the event of cancellation. However, if the classes are rescheduled, there will be no refund

Studio Closure:

If the studio is forced to close due to factors outside of our control such as severe weather conditions, or an infectious disease such as Covid-19, we will make effort to reschedule the paused sessions. However we will not offer any refunds

Transfers:

Transfer to an alternative class date is not possible once you register. You will need to cancel the registration for the existing program (Cancellation and refund policy will apply) and re-register for the new program
July 19 - July 21 | 10:30 AM - 5:30 PM
Monday to Wednesday
Number of sessions: 5
Instructor: Shivu Mahesh
Prerequisite: Experience in handles, spout and lids (optional)
Venue: Claystation Studio Koramangala
Age: 16+
Fee: 9100 Rs.