This course is open to anyone who wants to learn the basics of crafting their own glaze recipes, regardless of their prior experience or background in ceramics.
Glaze is a glass coating on ceramics which adds beauty, increases durability and makes a product fit for functional use. It is a mixture of minerals when mixed in different amounts with different components gives variable results and hence glaze recipes have always fascinated artists and ceramists across the globe. 
Making one's own glaze recipes help an artist to gain material knowledge and create a range of glaze colors/textures which might not be available commercially, drastically decreasing their cost of production.
This course is designed to introduce the fundamentals of glaze making process in a much simpler and easier form with access to Claystation's glaze materials, kiln and lab space for experiments
The course is spread across 5 days including 7 sessions (every session 3 hours each) which will cover:
Introduction components of glaze recipes

Introduction to glaze colorants

Introduction to basics of Glaze calculator tool with hands-on experience on the application.
(Glaze calculator simplifies the process of calculating minerals in a recipe and increases a overall chance of getting a better recipe as compared to traditional manual glaze making processes)

First hand experience in developing one's own glaze recipe.

Practical knowledge of handling and mixing minerals while making glaze recipes.

Few Cone 6 test firings to understand the outcomes of their very own created glazes
NOTE: The main focus of the workshop is to introduce the fundamentals of making one's own glazes. Fixing the defects of the glaze recipes will be covered at the upcoming next level of the workshop.
Session Dates :
9th December: 10:30-5:30
10th October : 10:30-1:30
16th October : 10:30-1:30
17th October : 10:30-5:30
23rd October : 2:30-5:30
We are located at  :  10, Temple tress row, S.T Bed, Cauvery Colony, Koramangala, Bengaluru
Google Maps :Claystation Bangalore
ABOUT OUR INSTRUCTOR: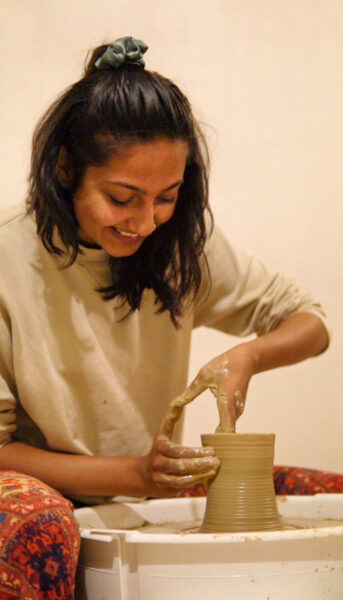 Meet Pragya, a multifaceted artist whose life has revolved around the captivating world of art. With an insatiable fascination for the beauty of details and aesthetics, she has explored various art forms, spanning from performing arts, film and photography to handmade crafts.
While her primary forte lies in the realms of photography and cinematography, Pragya's journey led her to discover the world of ceramics, and she hasn't looked back since.
Working with clay has brought her absolute childlike joy, and she firmly believes that it also provides a unique opportunity to deepen one's connection with oneself.
Through the medium of clay, Pragya continues to explore new dimensions of artistry and self-expression.
Instagram Handle : @pragyasingh04
Cancellation Policy
Refund - 
Before 7 days ( 2nd December ) - Full refund 
Before 2 days ( 7th December ) - 50 % refund 
Cancellation after 7th December - No refund
All the refunds will be processed within 15 working days from the day of cancellation

2. Transfer - 
Transfer to another person

- If a person is not able to attend the program for any personal reasons, they can transfer their slot to another person for the program they have registered for, and inform the studio at least 1 day before to add them in the group.

Transfer to another class

- T

ransfer to an alternative class date is not possible once you register. You will need to cancel the registration for the existing program (Cancellation and refund policy will apply) and re-register for the new program



3. Studio Closure:
If the studio is forced to close due to factors outside of our control such as severe weather conditions, or an infectious disease such as Covid-19, we will make an effort to reschedule the paused sessions. However we will not offer any refunds

Claystation reserves the right to cancel or change the schedule of classes. The participant will receive a full refund in the event of cancellation. However, if the classes are rescheduled, you can opt for shifting to the next batch/postponed date or take a refund.
DEC 9th, 10th, 17th,18th & 23rd | 10:30 AM- 5:30 PM
Weekend
Number of sessions: 7
Instructor: Pragya Singh
Prerequisite: None
Venue: Claystation Studio Koramangala
Age: 16 and above
Fee: 6100 Rs.