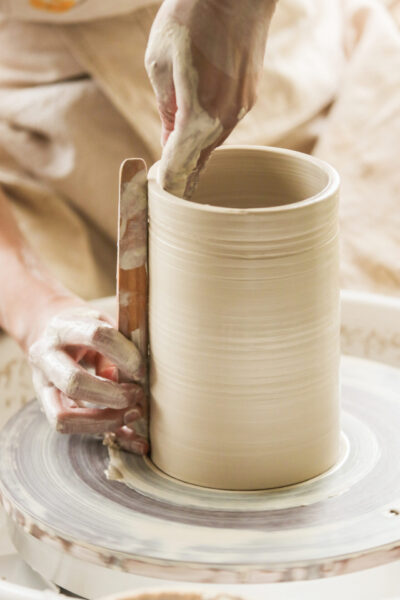 This beginner's course is designed for you to build solid foundation in wheel throwing, this is vital for you to master this art. Through this program you will learn fundamental techniques like wedging, centering, pulling and trimming. Also you will learn to throw and alter cylinders into bottles and one piece for creative expression.
Additionally, you will gain core knowledge of the basics of ceramics and clay. Good understanding about this versatile medium is quite critical for your learning process.
Total Number 0f Students accommodated in a class -  8 People (registration will be on a first come first serve basis.)
Total Number of Classes: 13
Students will be making a range of articles out of which few  selected by the instructor will be eligible for glazing and firing.
Note : We have taken into account all the Christmas and New Year holidays and scheduled two makeup sessions for the course. If you missed any classes, you can attend these sessions to catch up on what you've missed and practice.
SESSION DATES:
7th      December- 10:30 am - 1:30 pm
8th     December -10:30 am -  1:30 pm
11th    December -10:30 am - 5:30 pm
12th  December -10:30 am -  1:30 pm
13th December -10:30 am -  5:30 pm
18th  December: 10:30 am -  1:30 pm
21st   December -10:30 am -  5:30 pm
22nd   December -10:30 am -  5:30 pm
(In case you have missed a session)Make up Session : 8th  December and 12th  December (2:30pm to 5:30pm)
Glazing Session 10:30 am -1:30 pm: 5th January 2024
Article pick-up date: January 13th- December 20th
Post December 23rd, the articles will not be saved any further in the studio.
NOTE: Please go through the dates and the respective days of the course sessions as not all sessions are being conducted on all Saturdays and Sundays. 
Materials included in the Course : 20Kg Sandalwood Clay (cone 6 stoneware ) , Basic pottery toolkit and apron (Students can take the kit back on the last day of the class )
Materials to be brought by students: Plastic Covers , Scissors, Basic stationary (Scissors, Pen, Small Notebook, Pencil, CD-markers.)
We are located at  :  10, Temple tress row, S.T Bed, Cauvery Colony, Koramangala, Bengaluru
Google Maps :Claystation Bangalore
We are also on Instagram :Claystation Bangalore
ABOUT OUR INSTRUCTOR: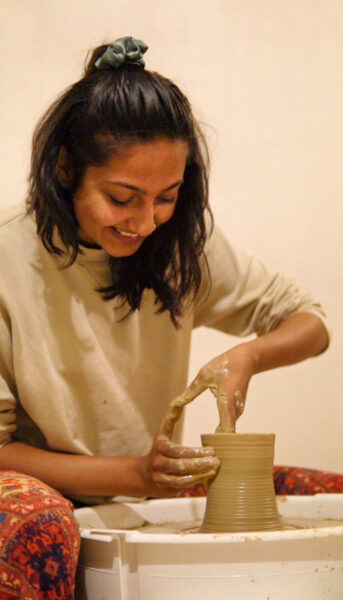 Pragya
Meet Pragya, a multifaceted artist whose life has revolved around the captivating world of art. With an insatiable fascination for the beauty of details and aesthetics, she has explored various art forms, spanning from performing arts, film and photography to handmade crafts.
While her primary forte lies in the realms of photography and cinematography, Pragya's journey led her to discover the world of ceramics, and she hasn't looked back since.
Working with clay has brought her absolute childlike joy, and she firmly believes that it also provides a unique opportunity to deepen one's connection with oneself.
Through the medium of clay, Pragya continues to explore new dimensions of artistry and self-expression.
Instagram Handle : @pragyasingh04
NOTE:
1. Refund
On or before 7 days (28th November)  - Full refund
On or before 2 days (3rd December)  - 50 % refund
Cancellation after (3rd December) - No refund
All the refunds will be processed only after 15 working days post cancellation
2. Transfer
Transfer to another person - If a person is not able to attend the program for any personal reasons, they can transfer their slot to another person for the program they have registered for, and inform the studio at least 1 day before to add them in the group.
Transfer to another class - Transfer to an alternative class date is not possible once you register. You will need to cancel the registration for the existing program (Cancellation and refund policy will apply) and re-register for the new program
3.Missed Sessions -
Claystation will schedule 1 make up session . Kindly  Connect with Studio team
Claystation will not offer refunds for the sessions missed
Claystation reserves the right to cancel or change the schedule of classes. The participant will receive a full refund in the event of cancellation. However, if the classes are rescheduled, you can opt for shifting to the next batch/postponed date or take a refund.
4.Studio Closure:
If the studio is forced to close due to factors outside of our control such as severe weather conditions, or an infectious disease such as Covid-19, we will make an effort to reschedule the paused sessions. However we will not offer any refunds
December 7 - December 22 | 10:30 AM-1:30 PM
Weekdays
Number of sessions: 13
Instructor: Pragya Singh
Prerequisite: None
Venue: Claystation Studio Koramangala
Age: 16 and Above
Fee: 15500 Rs.