Pre-requisite for the Course: students should be able to wedge 750gms of clay, center (within 5-10 mins) and be able to pull 6 inches cylinder (within 10 mins). If you need any further details you can consult with our training team before registering.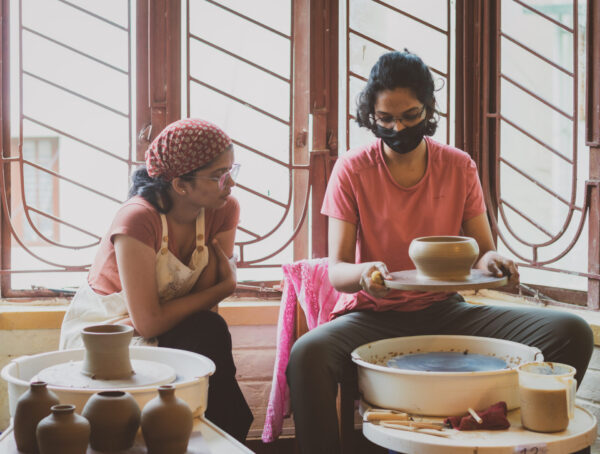 This SECOND LEVEL beginner's pottery wheel course is designed to build solid foundation in throwing open shapes. In this program, you will learn how to throw round form and bowls, along with throwing and trimming using a chuck.
Total Number 0f Students accommodated in a class -  8 People (registration will be on a first come first serve basis.)
Total Number of Classes: 18
Instructor Led sessions: 12
Open studio: 6
Materials included in the course : 20Kg Sandalwood Clay (cone 6 stoneware ) .
Materials to be brought by students: Basic pottery tool kit , Apron, 7 Litre (Plastic Air tight container)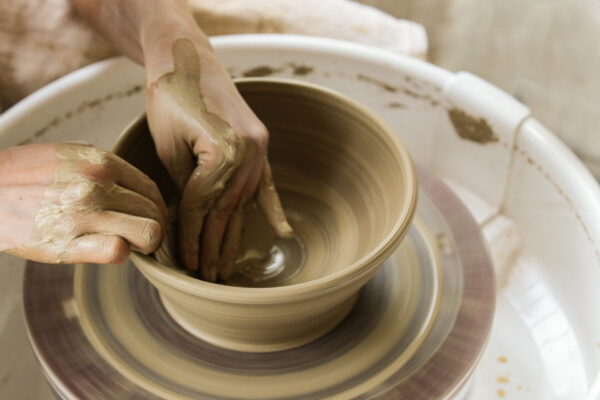 SESSION DATES:
Instructor led Session dates (10:30 AM to 1:30 PM): June 3rd, 4th, 10th, 11th ,17th ,18th   ,24th  ,25th , July 1st,2nd,15th, and 16th  . 
6 open studio sessions from 2:30 PM to 5:30 PM: June 11th, 17th, 24th, 25th,and  July 1st,2nd .     
NOTE: Kindly go through the dates and the respective days of the course sessions as not all sessions are being conducted on all Saturdays and Sundays.
Article pick-up date: July 29th - August 5th
Note: Post 5th August, the articles will not be saved any further in the studio.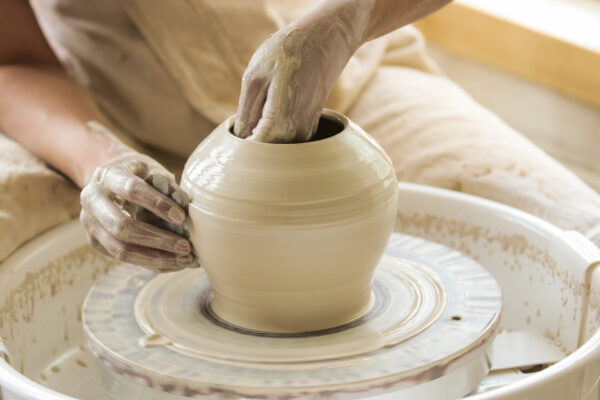 LOCATION:  
10, Temple tress row, S.T Bed, Cauvery Colony, Koramangala, Bengaluru
ABOUT OUR INSTRUCTOR: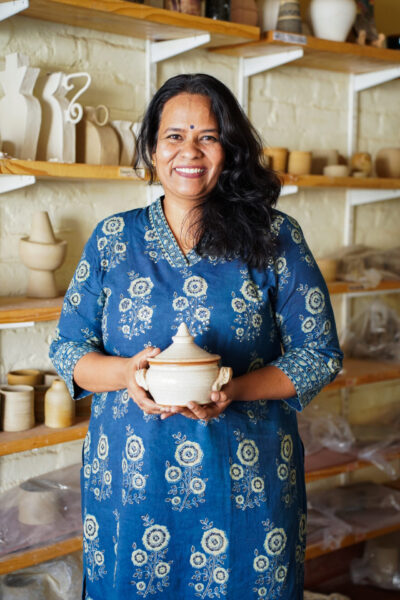 Rakshita Hiremath
"One could spend a lifetime working with clay and still be surprised by it which is both challenging and motivating", is what Rakshita Hiremath believes. She enjoys teaching pottery to children and grown ups alike, thus hoping to initiate them into exploring the endless possibilities with the art.
She makes pieces that are functional and decorative using wheel throwing as well as hand building techniques. Experimentation with different surface decoration methods such as slips, underglazes and wax resists adds an element of fun to her work. She is an engineer by training and an artist by choice. After working in the corporate world for a decade, a calling to explore the medium of clay brought her to Claystation, where she learnt and has been teaching.
 Instagram Handle:
NOTE:
Registration and payment is required to secure a spot in class
Cancellation and refund Policy:
1. No refunds will be provided if the registration is not cancelled 1 week before the start of the program.
A refund of 75% will be provided if cancellation does occur before 1 week of commencement of the program
No cancellation will be provided if the instructor feels the student skills are not as per the pre-requisite as mentioned above.
 Claystation will not offer refund for the sessions missed.
Claystation  reserves the right to cancel or change the schedule of classes. The participant will receive full refund in the event of cancellation. However, if the classes are rescheduled, there will be no refund
All refunds will be initiated only after 15 days from the cancellation.
Studio Closure:

If the studio is forced to close due to factors outside of our control such as severe weather conditions, or an infectious disease such as Covid-19, we will make effort to reschedule the paused sessions. However we will not offer any refunds

Transfers:

Transfer to an alternative class date is not possible once you register. You will need to cancel the registration for the existing program (Cancellation and refund policy will apply) and re-register for the new program

Prerequisite:

Students without the prerequisite will not be allowed to attend the class and course amount will not be refunded. Hence, kindly discuss with training team before registering for the class if more clarity is needed about the Prerequisite.
June 3- July 16 | 10:30 AM- 1:30 PM
Saturday and Sunday
Number of sessions: 18
Instructor: Rakshita Hiremath
Prerequisite: Beginner Wheel Throwing 01
Venue: Claystation Studio Koramangala
Age: 18
Fee: 15500 Rs.