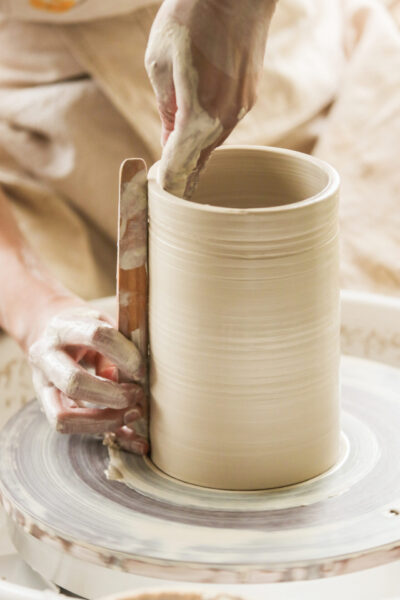 This beginner's course is designed for you to build solid foundation in wheel throwing, this is vital for you to master this art. Through this program you will learn fundamental techniques like wedging, centering, pulling and trimming. Also you will learn to throw and alter cylinders into bottles and one piece for creative expression.
Additionally, you will gain core knowledge of the basics of ceramics and clay. Good understanding about this versatile medium is quite critical for your learning process.
Total Number 0f Students accommodated in a class -  8 People (registration will be on a first come first serve basis.)
Total Number of Classes: 14
Students will be making a range of articles out of which few  selected by the instructor will be eligible for glazing and firing.
Materials included in the Course : 20Kg Sandalwood Clay (cone 6 stoneware ) , Basic pottery toolkit and apron (Students can take the kit back on the last day of the class )
Materials to be brought by students: Plastic Covers , Scissors, Basic stationary (Scissors, Pen, Small Notebook, Pencil, CD-markers.)
SESSION DATES:
7th October- 10:30 am -  1:30 pm
8th October - 2:30 pm - 5:30 pm
14th October - 2:30 pm - 5:30 pm
15th October - 2:30 pm - 5:30 pm
21st October - 10:30 am - 5:30 pm
22nd October -2:30 pm - 5:30 pm
28th October-2:30 pm - 5:30 pm
29th October - 2:30 pm - 5:30 pm
4th October - 10:30 am - 5:30 pm
5th November -2:30 pm - 5:30 pm
NOTE: Please go through the dates and the respective days of the course sessions as not all sessions are being conducted on all Saturdays and Sundays. 
2 Glazing Session (brush technique) 10:30 am -5:30 pm: 25thNovember
Article pick-up date: December 2nd- December 9th
Note: Post December 9th, the articles will not be saved any further in the studio.
We are located at  :  10, Temple tress row, S.T Bed, Cauvery Colony, Koramangala, Bengaluru
Google Maps :Claystation Bangalore
We are also on Instagram :Claystation Bangalore
ABOUT OUR INSTRUCTOR: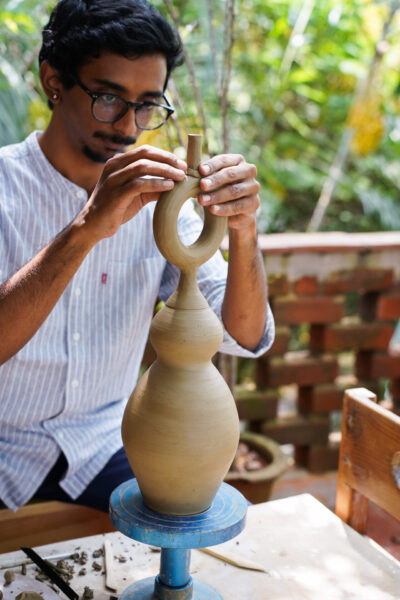 Shivu Mahesh
Born and raised in Bangalore, Shivu holds a BVA in sculpture from the College of Fine Arts, Bengaluru and MFA in Ceramics and Glass from Kala Bhavana, Santiniketan. He recalls playing with mud in his grandmother's garden, making miniature crockery and figures as one of his fondest memories which planted a seed for his affinity towards clay .In the city, sculpting Ganesha idols during Ganesha Chaturthi by borrowing a lump of red clay from a local artisan was a highly anticipated event cherished every year.Throwing donuts on the wheel and forming rather challenging and complex structures that is gravitationally well balanced for both sculptural and functional purpose has always kept him on his feet.
Ever since the pandemic he started experimenting with 3D modelling and printing. He plans to continue stepping into new media like such that will eventually aid his adventurous journey with art. He believes understanding the properties of a media and it's behaviour is key and encourages people to do so.
Instagram Handle : @shivu.mahesh
NOTE:
1. Refund
On or before 7 days (30th September)  - Full refund
On or before 2 days (5th October)  - 50 % refund
Cancellation after (5th October) - No refund
All the refunds will be processed only after 15 working days post cancellation
2. Transfer
Transfer to another person - If a person is not able to attend the program for any personal reasons, they can transfer their slot to another person for the program they have registered for, and inform the studio at least 1 day before to add them in the group.
Transfer to another class - Transfer to an alternative class date is not possible once you register. You will need to cancel the registration for the existing program (Cancellation and refund policy will apply) and re-register for the new program
3.Missed Sessions -
Claystation will schedule 1 make up session on (2nd Saturday  of that Month  ) with instructor guidance
(which may or may not be your instructor). Kindly  Connect with Studio team
Claystation will not offer refunds for the sessions missed
Claystation reserves the right to cancel or change the schedule of classes. The participant will receive a full refund in the event of cancellation. However, if the classes are rescheduled, you can opt for shifting to the next batch/postponed date or take a refund.
4.Studio Closure:
If the studio is forced to close due to factors outside of our control such as severe weather conditions, or an infectious disease such as Covid-19, we will make an effort to reschedule the paused sessions. However we will not offer any refunds
October 7 - November 5 | 2:30 PM-5:30 PM
Saturday and Sunday
Number of sessions: 14
Instructor: Shivu Mahesh
Prerequisite: None
Venue: Claystation Studio Koramangala
Age: 18
Fee: 15500 Rs.