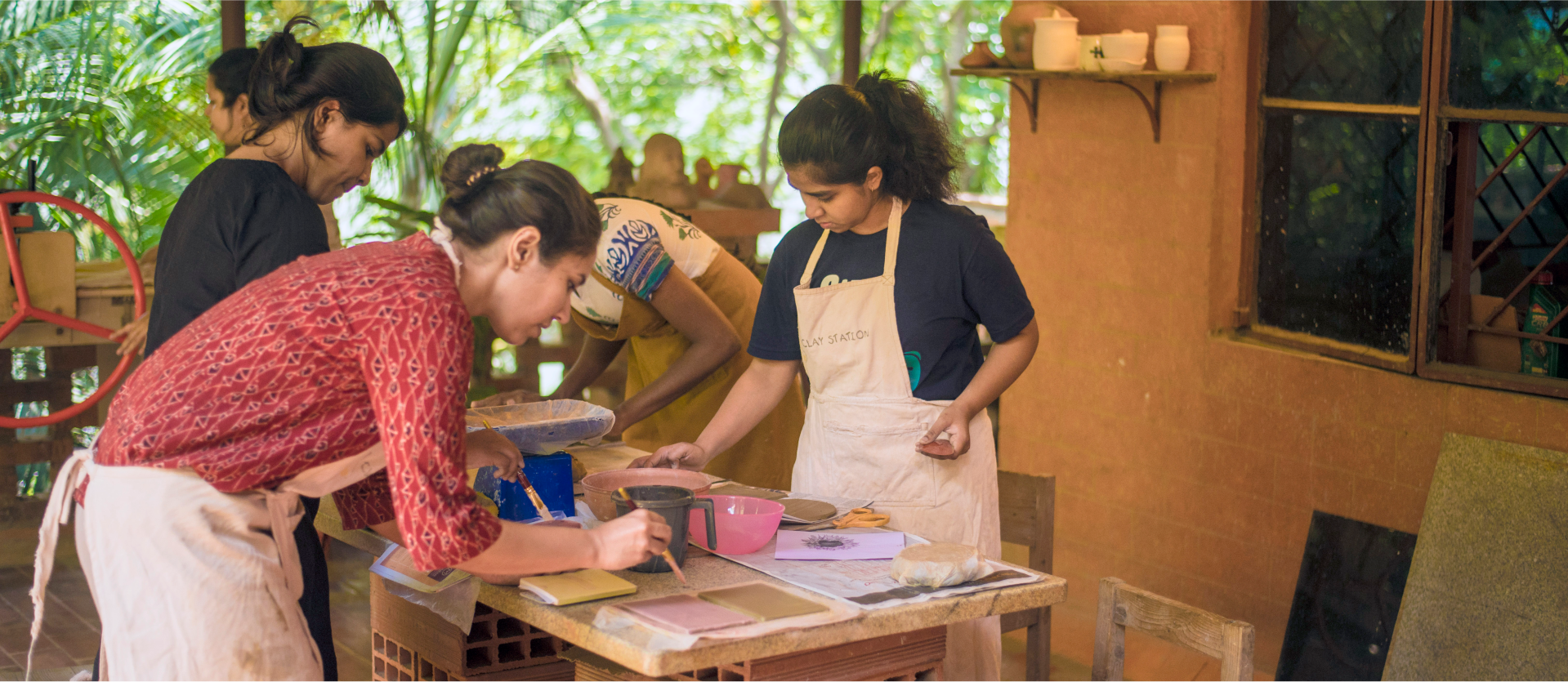 Students may use open studio hours to practice outside of class hours.
Open studio is available between Tuesday -Friday (Weekday).
On these days, two slots are available 10.00am-1.00 pm and 2pm-5pm. If you want to opt for 5pm-8pm slot, consult with studio manager.
Open studio is available for purchase for weekdays only.
The weekday slot can be purchased semi-monthly. That is between 1st -15th of a month or 16th-31st of every month.
Open studio slots are limited and you will need to purchase the slot online.
All Open Studio charges are exclusive of clay, glazes and firing charges.
For open studio, members should bring their own tools, aprons and other necessary supplies.
For glazing open studio articles, members need to bring in their own glaze supplies including supporting accessories.
Members should take extreme care to avoid any accidents while firing their items in the kiln. If damages are encountered then participant will be asked to pay the damage charges.
Members using open studio should clean the wheel, wedging tables and work tables thoroughly.
Members will be given one shelf to store their open studio work. Additional shelf space can be purchased.
Members opting to fire their open studio pieces should include proper signature for easy identification of your pieces.
Open studio items will be fired only when the firing slot is available. You will need to talk to Studio manager to understand the schedule before you plan.
Children and friends of members are NOT allowed in the facility during open studio hours.
Open studio hours can change on short notice. Check the notice boards for updates.
This is an educational facility with limited storage space.  Hence currently the open studio service is not available for artist to make commercial work.
The studio may not be able to fire all size and types of student work. Consult with studio manager for size limitations.
Open studio semi-monthly charge
Rs. 1000
For Kiln 818 (Excl of taxes)
Bisque firing full kiln
Rs.1500
Bisque firing half kiln
Rs.750
Bisque firing full shelf
Rs 500
Glaze firing full kiln
Rs.2000
Glaze firing half kiln
Rs. 1000
Glaze firing full shelf
Rs. 700
Damage per shelf
Rs. 2000