This beginner's course is designed for you to build solid foundation in wheel throwing, this is vital for you to master this art. Through this program you will learn fundamental techniques like wedging, centring, pulling and trimming. Also you will learn to throw and alter cylinders into bottles and one piece for creative expression.
Additionally, you will gain core knowledge of the basics of ceramics and clay. Good understanding about this versatile medium is quite critical for your learning process.
This is a 19 session course, with 13 instructor led sessions, 3 hours per session. An additional of 6 open studio sessions will be included which has to be taken during the 3 weeks of the course duration. We can accommodate only 8 students per wheel throwing batch, hence the registration will be on a first come first serve basis.
SESSION DATES:
 Instructor led dates (2pm to 5pm): February 2nd, 7th, 9th, 15th, 17th, 21st, 23rd, 28th and March 1st, 3rd , 6th  and 10th 
The 6 open studio sessions from 10:00 am to 1:00 pm: February 15th, 21th, 28th and March 1st, 3rd and  6th  
Glazing Session (brush technique): 2pm to 5pm on March 24th
NOTE: Please go through the dates and the respective days of the course sessions as not all sessions are being conducted on all weekdays.
Article pick-up dates: April  8th - 15th
NOTE: Post 15th April , the articles will not be saved any further in the studio
You will be working with cone 6 stoneware clay that is manufactured in house and used by professional ceramic artists. The class fee includes firing and supplies. As part of supplies you will be given 20kgs of stoneware clay, apron and a set of basic pottery tools which is to be used during the sessions.
Instructor Brief: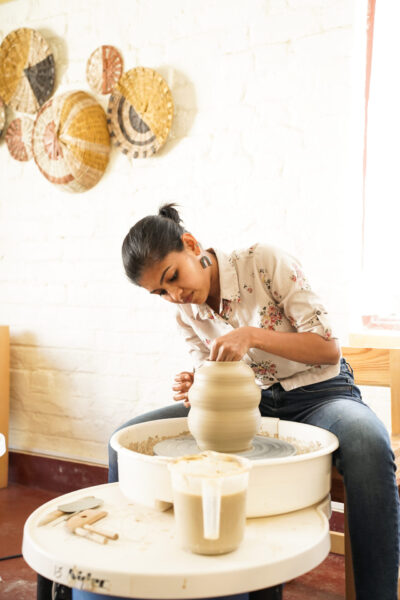 Parul is an experienced architecture and design professional who has spent many years exploring forms and materials at a macro level. She has always been crafty and hands-on, having enjoyed making toys using ice cream spoons as a child, models in architecture school and doing DIY projects around the house.
After her introduction to clay at Claystation, Parul decided to deepen her knowledge of ceramics by enrolling in a 7-month program at Golden Bridge Pottery in Puducherry, India. There, she learned about clay and ceramics in-depth, including techniques for making and firing pots in a wood-fired kiln and understanding glazes.
In her work as an artist, Parul enjoys the combination of art and science present in the medium of clay and uses her skills to create both sculptural and functional pieces.
As an instructor, Parul is dedicated to inspiring and being inspired by her students, helping them develop their skills and achieve their goals in their pottery journey.
Instagram Handle : parul_sao
NOTE: 
Registration and payment is required to secure a spot in class

Cancellation and refund Policy:

1. No refunds will be provided if the registration is not cancelled 1 week before the start of the program

2. A refund of 75% will be provided if cancellation does occur before 1 week of commencement of the

    program

3. Claystation will not offer refund for the sessions missed

4. Claystation  reserves the right to cancel or change the schedule of classes. The participant will receive full refund in the event of cancellation. However, if the classes are rescheduled, there will be no refund

All refunds will be processes only after 15 working days of cancellation`

Studio Closure:

If the studio is forced to close due to factors outside of our control such as severe weather conditions, or an infectious disease such as Covid-19, we will make effort to reschedule the paused sessions. However we will not offer any refunds

Transfers:

Transfer to an alternative class date is not possible once you register. You will need to cancel the registration for the existing program (Cancellation and refund policy will apply) and re-register for the new program
February 2 - March 24 | 2:00 PM-5:00 PM
Weekdays
Number of sessions: 19
Instructor: Parul Sao
Prerequisite: None
Venue: Claystation Studio HSR Layout
Age: 18
Fee: 15500 Rs.